14th May 2020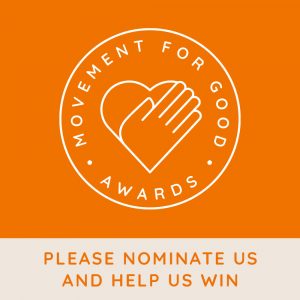 NAPAs chance to win £1,000
NAPA is asking for nominations to win £1,000 Movement for Good award. Charity Number 1070674
NAPA is encouraging people to nominate them to be in for a chance to win £1,000 as part of specialist insurer Ecclesiastical's Movement for Good awards.
It's quick and easy to nominate NAPA online. Nominations are open from Wednesday 6 May to Sunday 24 May and you can vote for NAPA online at movementforgood.com  
Winners will be drawn at random and the more times NAPA is nominated the more chance it has of being selected.
Should NAPA be awarded £1000, we will run a series of short 10 minute podcasts. These will be available to care home staff. Each podcast will highlight an essential tip for self-care during the pandemic and beyond.
NAPA is encouraging everyone to use their social media channels to ask people to vote for them to give the charity the best possible chance of winning.
Hilary Woodhead, Executive Director, "NAPA supports the care sector to prioritise the wellbeing of people with care and support needs through the provision of engagement and activity. We believe that staff wellbeing is also crucial, and that staff must have the resources they need to enable them to support others".
Mark Hews, Group CEO of Ecclesiastical, says: "We're delighted to announce the launch of Ecclesiastical's Movement for Good awards for the second year running. The coronavirus is having a major impact on charities and many are facing financial difficulties. Our Movement for Good awards will continue to help charities at a time when they need it most and we know that for many charities, £1,000 can make a real difference.
"We were thrilled to receive so many nominations from the public last year and this year we are encouraging even more people to nominate a good cause. Ecclesiastical is a unique financial services group. We are owned by a charity which means all available profits can be given to the good causes that are so important to our customers. As a company whose purpose is to contribute to the greater good of society, charitable giving is at the heart of our business."
***ENDS***
Notes for editors
Contact details Gianna Burns – Communications Manager – communications@www.napa-activities.com
About NAPA
NAPA – The National Activity Providers Association is a charity and membership organisation that supports the care home sector to prioritise the wellbeing of their residents through activity and engagement. For more information visit www.napa-activities.com
About Ecclesiastical
Owned by a registered charity, Allchurches Trust, Ecclesiastical is a specialist insurer of the faith, heritage, fine art, charities, education and private client sectors
Ecclesiastical is one of the UK's top five company givers to charity according to the 2017-18 UK Guide to Company Giving. After donating £50m to charity in three years, Ecclesiastical launched a bold vision in 2016 to raise £100m for good causes by the end of 2020. In March 2020, the Group announced it had already raised £96million towards its target. Find out more at ecclesiastical.com/ourstory
About the Movement for Good awards
Ecclesiastical's £1million giving programme, the Movement for Good awards, will help charities change lives for the better. Phase one will see 500 charities receive £1,000 while the other £500,000 will be given away later this summer
The £1,000 awards launch on Wednesday 6 May and is open to all UK-registered charities. From 6 May to 24 May anyone can nominate a registered charity for the chance to receive one of 500 £1,000 awards. The winners will be announced between 1 June and 12 June. For more information visit www.movementforgood.com