NAPA supports Intergenerational Activities
We are delighted to support Intergenerational Week and would like to thank Intergenerational Music Making for partnering with us on this special issue of NAPA news – we would also like to thank Ready Generations for their guest blog.
At NAPA we believe in creative opportunities for meaningful connection. Carefully planned activities that enable generations to interact and engage with each other can be incredibly beneficial to all involved; strengthening relationships, sharing experiences, exploring ideas and learning from each other.
Hilary Woodhead said: "Intergenerational Week, led by Generations Working Together, is a national campaign to connect those who are passionate about Intergenerational activity.
"Lets celebrate the difference that creative connections between all generations can make to all our lives."
Do you provide intergenerational activities? Join the movement this #IntergenerationalWeek and say NO to the age gap! Share your ideas and activities across social media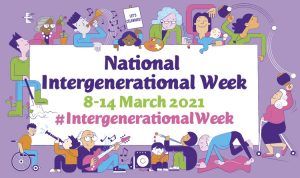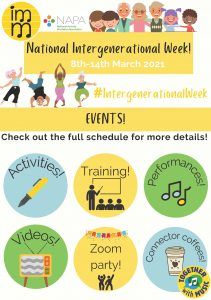 National Intergenerational Week on Vimeo
Get Involved…

Our aim is to get as many people as possible involved and talking about how they plan to connect younger and older generations to build strong connections and friendships.
Share your intergenerational project or those local to you with the online world during #IntergenerationalWeek, 8th – 14th March 2021.
Download the supporters pack by clicking the button below
The Together Project is offering Free
Virtual Songs & Smiles sessions this week
Virtual Songs & Smiles is a weekly music group for 0-4 year olds, their grown-ups and older people, held online and beamed into care homes and sheltered housing schemes across the UK.
They sing, move, play, make friends and – most importantly – have lots of fun!
Each FREE session is 45-60 minutes and will run during Monday 8th March to Friday 12th March during National Intergenerational Week.
If you enjoy it as much as we think you will, and as we get more care homes on-board, there will be an opportunity to block book further sessions in the future.

Pam Mundy from Ready Generations has shared her blog with us here:
Terms of Endearment! What's In A (Grandparent's) Name?
'Grandparents are the dots that connect the lines from generation to generation'
Lois Wise
Grandma, grandmama, granny, gran, nan, nana, grandpa, pops, grandpapa, grandad … what do you call your own if you have them, or are someone in this role? What's in a name? The ones above are only a very small number of examples of the ways in which we describe those known as grandparents! Derivations of these, plus traditional family names and 'pet' names add to this list (including the quirky 'Choccy', used by one family to describe the maternal grandmother, fount of all things fun and with an abundant supply of chocolate to be distributed whenever deemed necessary!) …….
If you would like to hear more about the above mentioned 'Care to the Nest' Report, please do join the discussion at our forthcoming webinar, where the key findings and next steps of our 'Care to the Nest' report will be shared.

Thursday 25th March 2021 at 10am 
Amy Simpkins from My Home Life has shared this blog about some examples of Intergenerational working across the country
Care Home Friends and Neighbours
Care Home Friends and Neighbours: Intergenerational Linking is an exciting initiative that is linking young people aged 5-14 from schools and youth groups with older people living in care homes. The project is a partnership from My Home Life England who bring expertise promoting quality of life in care homes and The Linking Network who run a successful Schools Linking programme.
We are thrilled to be supporting National Intergenerational Week this year and celebrating many of the great connections that have been made so far in our first two projects, despite difficulties posed by the pandemic……