Competition Time!
19/11/2019

Giving Tuesday – Let's get together and do something amazing on 3rd December!
28/11/2019
In 2019, NAPA was delighted to receive funding from the Baring Foundation and The Rayne Foundation to set up a pilot project, Arts in Care Homes.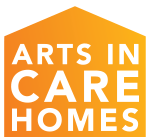 The main aims of the project were to:
Create a website www.artsincarehomes.org.uk as a user-friendly resource for anyone wanting to deliver arts activities and projects in care settings.
Set up the first National Day of the Arts in Care Homes to encourage and promote arts provision in care settings.
Champion creativity in care settings and increase arts provision.
The first National Day of Arts in Care Homes took place on 24 September and was very successful in terms of take-up from care settings, galleries and arts organisations. Wonderful examples of arts activities that took place on the day were shared on social media. The many benefits for the health, wellbeing and happiness for not just residents but also staff and relatives were highlighted, and participants said it was good to have a day to focus on the importance of the arts. It was also encouraging to hear that some of the participating homes had not previously run arts activities.
To find out more about this project click here to read the project evaluation summary