Dame Judi Dench Judges Art Competition For Over 90s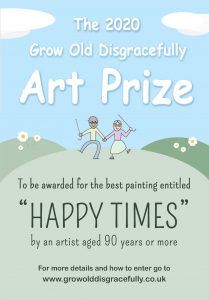 The grow old disgracefully art prize for artists over 90
In this "year of the lockdown" we are giving a prize for the best artwork entitled "Happy Times" produced by an artist over the age of 90 at the end of August this year. The pictures must be 2D (flat), but can be in any media – pencil, charcoal, crayon, watercolour, acrylic, oils, collage, digital – or a mixture of the whole lot if you are feeling especially disgraceful!
The best 20 entries will be shortlisted and displayed on our website in the middle of September and the winner will be announced by the end of September.
To Enter…
Email a photo of your artwork to competitions@growolddisgracefully.co.uk with the heading Happy Times. You also need to tell us your name, your age at the end of August, the size of the picture and the media you use.