Join us on NAPA'S National Day of Conversation and Connection:
Tea Tuesday
You are Invited to:
Afternoon tea with Sally Knocker – 2.45 on Tuesday 11th August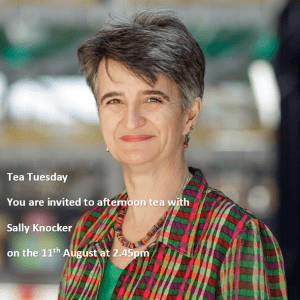 Hilary Woodhead – Executive Director of NAPA will chat to Sally Knocker; Consultant Trainer at Meaningful Care Matters, over a cup of tea and a slice of cake about the importance of conversation and connection.
Sally Knocker is Consultant Trainer at Meaningful Care Matters. When Sally was about 6, she wanted to be a dog. Her adoring grandmother took her for walks in the Sussex woods on a lead and gave her a bowl. She 'got' what it means to be with someone in their reality and to love someone unconditionally. Sally's relationship with her grandmother has inspired her 30-year career with older people. After a law degree, Sally trained as a Drama Therapist and her training style is shaped by playfulness, energy and a passion that no one should have to sit feeling bored or lonely all day.
Sally has worked in a Social Services department as a dementia specialist, been London Regional Development Officer for the Alzheimer's Society and Director of Communications for the National Activity Provider Association. During seven years as a Consultant Trainer with Dementia Care Matters, she has supported culture change in care services across the UK, Ireland, Canada, Australia and the USA.
Sally has written a number of publications including Loving, the Essence of Being a Butterfly in Dementia Care and Safe to be Me – Meeting the Needs of Older Lesbian, Gay, Bisexual and Transgender People using Health and Social Care Services. Sally longs for a day where every care home is truly a home, where people living and working there share the day like family and friends. Sally loves working with Meaningful Care Matters' and is driven to bring love and laughter back into the heart of care.
This is a FREE event but if you would like to make a donation please email for details  or make a donation by text – Email our Fundraising Team here