StoriiCare is a modern, easy-to-use care management and activity recording software built with activity professionals in mind.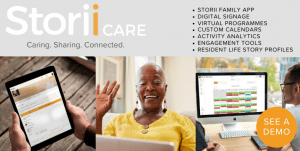 This webinar will explain how you can easily host virtual programmes and connect with your service users and their families in meaningful ways that are safe and effective. We will be demonstrating a selection of features that save activity professionals time, improve communication, reduce error, and future-proof care provision.
StoriiCare is available on the web and via iOS and Android apps. Features include Digital Signage, Custom Calendars, Activity Attendance Tracking, Person-Centred Service User Profiles, Day Care Registers, Analytics, Virtual Programmes, Family Portal, and much more. StoriiCare also offers features for Home Care services, which many providers are turning to in light of COVID-19.