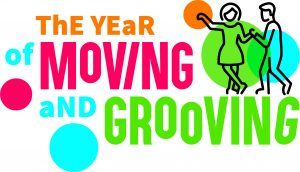 The NAPA Year of Moving and Grooving 2021 is a campaign to support the care sector to prioritise physical activity, with the aim of improving physical, psychological and social well-being. Physical activities are defined as those activities that increase your heart rate and cause you to breathe more deeply and can include walking, cycling, gardening , music or dancing, as well as other sport and exercise-based activities.
We are excited to launch the campaign by making this resource available for FREE download. Many thanks to our main sponsor Motitech for making this possible and all the activity professionals who submitted examples of physical activities from their own practice. We appreciate this collaborative and creative approach.
Taking part in a range of physical activity provides essential benefits for physical and mental health, Improving balance, strength, agility and emotional wellbeing. We hope you enjoy this resource and are inspired to Move and Groove!
Hilary Woodhead, NAPA's Executive Director
This resource has been developed to support you to prioritise the wellbeing of the people you support and to promote physical activities. The ideas and activities shared are intended to inspire you, all activities can be adapted for individuals living in care homes, at home, in extra care sheltered housing, attending day and community centres or spending time in hospital.
If you are planning to provide exercise as part of your physical activity programme we suggest seeking medical advice and ensuring the person leading the exercise is appropriately trained to do so, this can be a Physiotherapist, registered exercise professional or fitness instructor, Activity Professional or other health and social care staff who have the qualifications, skills and experience to deliver exercise programmes. There are a range of providers who can offer these activities and training programmes.
Click here to visit The NAPA Recognised Supplier Directory for more information.
"Motitech is grateful for the opportunity to sponsor this valuable Free resource to aid and share knowledge in the use of technology to battle inactivity and enhance quality of life.
"The initiatives, resources and services by NAPA goes a long way in enriching the lives of older people across the UK. Their values and purpose align with our own of focusing on abilities instead of disabilities, so we are delighted to work together on this noble mission."
Solfrid Sagstad, Executive Market Manager, Motitech
Click to read the Motitech article that featured in the latest magazine