NAPA Short Story Competition  Winner
"The Message" written by Richard Clifton from Kimbolton Lodge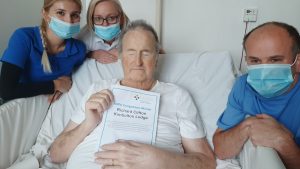 Once again, I am walking the beach alone, not long after dawn. I follow the retreating tide, where the drying sand is firm and easy to walk on. This is the best combination of time and tide; it's just before breakfast and the sea is as far out as it goes. Over the years I've made a study of the local tide tables and I know when these special days fall due. The weather is another important factor of course, but today is clear and already bright so all three of my boxes are ticked. It's very chilly for March though. I feel the cold much more these days. I'm startled by the pitter-pat of running feet behind me. Two greyhounds, or whippets perhaps, come by at unbelievable speed, leaving tiny, perfect pawprints in the pristine sand. I turn to see their owner, a solitary female figure nearly half a mile back along the beach. A faint whistle stops them in their tracks and they race back to mama with even greater speed. They acknowledge me briefly as they pass with a sideways look. "Sorry can't stop," they seem to say. I normally turn for home at this point, just before the next headland, but last night's storm has turned up quite a lot of flotsam and I stick with it in case something interesting turns up. Something floating about twenty yards out catches my eye. A bottle. It's an ordinary-looking clear glass bottle and probably contained gin or something. It seems to be coming in to shore, so I await its arrival. Losing patience, I wade out into the icy water to pick it up but my timing is wrong, A returning wave takes it out to sea again, but I get a good look at it. It seems to have a rolled-up paper inside. Could that be a message in the bottle? How exciting. The bottle stays about thirty yards out, bobbing in the waves. It moves in a  complex circulating path, but generally along the coast. Fascinated, I follow it. At the rocky headland the bottle, caught in a greater circulation, starts to move further out to sea. It seems hopeless but I think perhaps it will become lodged in the tumbled boulders and maybe I can grab it. I clamber onto the rocks gingerly. I'm not quite so agile as I used to be. It takes a while to make my way over the rocks, but I keep the bottle in view. It's going nowhere very fast because the tide is on the turn now.
The headland peters out into a profusion of giant rocks. I think they're under water at all but the lowest tides; they are covered in weed like green baize, dry now but probably not for long. I see the bottle bobbing between them, and can hear it clinking occasionally as it impacts the weedy stones. The water is quite choppy now; surely the glass will shatter at any time. It's now or never. Casting caution aside I jump from rock to rock. The dry weed provides fairly reliable footing and I soon achieve the rounded boulder adjacent to the bottle. If I lie face down I can just reach down to the water line and grab it by the neck. That done, and feeling rather exhausted, I make myself comfortable on top of the boulder to examine my prize. The top is made fully water-tight with duct tape and a great deal of some kind of gunk. It will prove difficult to open but, with growing shock, I realise I don't need to. I find myself quite familiar with the contents and with the handwriting I can see on the loosely-rolled note inside. It is my own. I sit there for some time, my breathing heavy and my heart thumping. It dawns on me that witnessing such an astronomically unlikely event at first hand is actually very frightening. It makes you think just about anything can happen; and maybe there is such a thing as fate. This is how religions start. Think of all the billions of times coincidences don't happen, I'm telling myself. It's not working so far. The evidence before me is that I hold, in a rather shaky hand, a bottle I had thrown into the sea myself, not far from here, over forty years previously. Even though I couldn't have described it during the intervening years, the sight of it now is quite unmistakable. Even now I struggle with the idea.
Surely there must be another explanation, but it doesn't come to mind. All those years ago my old friend and I had both been dumped by our girlfriends, on the same night. Now I know we had asked for it; back then we we're not so understanding. After we drowned our sorrows in the former contents of the bottle I had written some very unpleasant things about those very decent young ladies and launched the defamatory essay into the ocean from the cliff on the other side of the beach. It's difficult to believe the bottle has remained seaworthy all those years. Perhaps it lodged in rocks above high water until the recent storm freed it. Who knows? I smash the bottle and shred the paper inside. I think that's the right thing to do, and long overdue.
Unfortunately, on the way back, I find the returning tide has turned the weedy baize into green glass and I slip on the rocks. My leg is now trapped between the big boulders and I am up to my chest in water. The smaller stones down there, the size of grapefruit, are ground very smooth from rattling around in the waves. They feel surprisingly comfortable, but they hold my leg so very securely. I could no sooner free myself than pull my foot off. Thank goodness I've kept my mobile phone dry. The water seems a lot colder and I'm feeling quite weak now. Obviously, I've called the lifeboat people but the signal's not great around here. Sent a text too. No reply yet.
NAPA, 1st Floor, Unit 1, Fairview Industrial Estate, Raans Road, Amersham, Bucks. HP6 6JY
Company Registration No. 3482943 Charity Registration No. 1070674