NAPA supports Dementia study using multisensory boxes to address Covid-19 and loneliness
NAPA is delighted to announce our partnership with the University of West London. NAPA will support a new nationwide study to test how music and art can alleviate social isolation and loneliness while boosting wellbeing in dementia patients during ongoing COVID-19 restrictions.
Conducted by the University of West London (UWL), funded by the Arts and Humanities Research Council, the innovative health study will bring together people living with dementia, care home staff and family carers to co-design multi-sensory Culture Boxes with artists and musicians.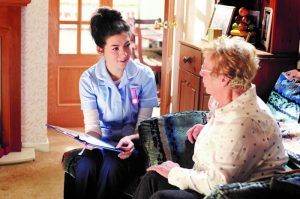 The Culture Boxes will each include a host of materials to encourage the creation of art and music. They will also include important information on virus transmission and prevention to protect the elderly and most vulnerable during and after the COVID-19 crisis.
The inaugural piece of research by the Geller Institute of Ageing and Memory at UWL will work with 40 care homes across the UK, focusing especially on areas of socio-economic deprivation and amongst Black, Asian and Minority Ethnic (BAME) populations.
Creative activity will be led by Emma Barnard, a visual artist with a particular interest in medicine, and Julian West, Head of Open Academy at the Royal Academy of Music, each tailored to recipients and will include items such as music recordings, cameras and art activities.
Creative resources will be simple to implement and offer stimulation and enrichment, with each bespoke box designed using evidence that creativity has been shown to improve mood and engagement, and reduce troubling symptoms such as agitation amongst those living with dementia.
Professor Victoria Tischler of UWL's Geller Institute of Ageing and Memory who is leading the study, said:
We already know of the significant impact that lockdown restrictions are having on the health and wellbeing of people living with dementia in care home settings, and want to ensure that as many as possible have access to varied and engaging activities and information about COVID-19 that is tailored to their needs.   
Drawing on the positive impact we know the arts can have on the cognitive abilities, behaviour and quality of life of people living with dementia, this will help us better understand the impact of such restrictions on the community, while also addressing serious issues of isolation and loneliness for those living in care homes.
With NAPA's support the Culture Boxes will be delivered to over 1,000 care home residents over the next 12 months, with a particular focus on socio-economically deprived and underserved communities.
The Culture Box project marks the launch of UWL's Geller Institute of Ageing and Memory, which will develop new technologies, effective psychosocial care and multi-sensory approaches to help those living with dementia. The founder of the Institute and Chancellor of UWL, Laurence Geller CBE, recognises the desperate need for effective psychosocial care to help people live well with dementia, especially as the number of those living with the disease in the UK is expected to rise by 35% to over one million by 2025 (Alzheimer's Research UK). The Institute will develop new evidence-informed approaches to the training and professional education of carers with the aim of improving dementia care at all levels.
Laurence Geller CBE said:
This is a momentous milestone for everyone involved in launching the Geller Institute for Ageing and Memory. At a time when the vulnerability of our elderly and social care systems has been highlighted by the COVID-19 pandemic, our mission has never been more important.
The Institute will uncover caring best practice for the benefit of people living with dementia, their families and carers, starting with the design and distribution of Culture Boxes. The Institute has the potential to revolutionise and set a new standard for research-driven dementia care in the UK and I am proud to be supporting it.
Hilary Woodhead said:
We are delighted to work with Victoria and the research team at UWL and the Geller Institute for Ageing and Memory. We believe this project will engage people with dementia in meaningful activity that provides information about COVID-19 and is tailored to their needs.   We look forward to sharing the culture boxes with participating care homes.
If your setting would like to be involved please contact us at info@www.napa-activities.com
Following the research study, artistic creations made during the project will be shown in a public exhibition.
Find out more about UWL's ongoing dementia care research via the Geller Institute of Ageing and Memory.