Arts in Care Homes website is designed to be used as a user-friendly resource to help anyone (including staff, artists, volunteers or relatives) wanting to organise arts activities in care homes.
Activity Co-ordinators and care staff are encouraged to access the website via their mobile phones if getting time on a computer is difficult. Look up different art forms to find related websites and articles and watch short films about inspiring projects. There is also a section on research which may be helpful for anyone filling in funding applications for arts projects in care homes.
The Everyday Creativity section aims to encourage a whole range of creative activities in care homes alongside the more traditional visual arts, music, drama and creative writing activities. Basically, the more art and creativity in care homes the better! We would like to see arts activities happening every day, from largescale funded choir and mosaic projects to knitting, karaoke and letter writing.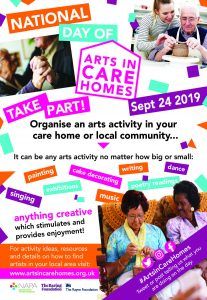 The project has been launched by NAPA this year, with funding from the Baring Foundation and the Rayne Foundation. The first National Day of Arts in Care Homes takes place on 24 September. Organise an arts activities in your care home, large or small and tweet about it on the day with photos including the hashtag #ArtsinCareHomes .