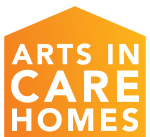 Only Connect is a project developed by NAPA Arts in Care Homes. The aim is to encourage more creative writing projects in care homes and develop care home pen pal partnerships. We are encouraging people to get in touch and form Only Connect partnerships with care homes The advice from Royal Mail is that it is safe to keep sending things by post – Click here to see the advice However, there is also the option to send messages electronically via email. The Only Connect resource pack has ideas for creative writing activities and suggestions for poems: Click here to download
In response to the Coronavirus situation and the closing of schools, Arts in Care homes is launching a weekly postcard challenge. School children and their parents will be encouraged to produce postcards on a range of creative themes, which will be sent to nominated care homes. We understand that not all care homes will have the resources to respond to all letters at this challenging time. However, we hope that by forming an Only Connect partnership, both school children and care home residents and staff will feel a little less isolated and anxious. If you are a care provider with homes that would like to receive letters, postcards, poems, artwork and/or video messages, please email alison@artsincarehomes.org.uk.
The Arts & Care Homes website www.artsincarehomes.org.uk has a range of online toolkits, HOW TO guides and other resources to help when planning and organising arts and creative activities.