Nominations Open – NAPA Member Activity Awards
07/05/2021

Moving and Grooving The Conference with a twist!
24/05/2021
In acknowledgment of the National Day of Reflection on 23rd March 2021, NAPA invited our members and supporters to write and/or support someone else to write a quatrain (a 4-line poem.) We encouraged poets to reflect on the pandemic and their experience of lockdown. We were amazed to receive hundreds of poems and moved by the impact the process had on many of the contributors. Thank you to everyone who contributed and thank you for reading it. We would also like to thank Famileo, who sponsored the anthology and made it possible for us to make the e-book available for free download- Click the front cover to download.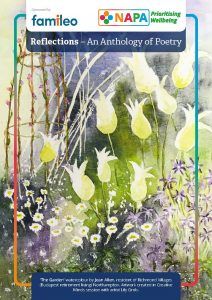 We hope you will take a few minutes to read and reflect – we send you our warmest wishes. The NAPA team.
Sponsored by