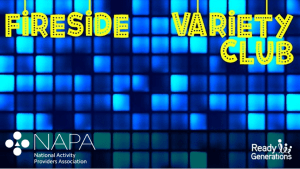 The Fireside Variety Club has its own club song – Here is the music , the words  are on the flyer here , so you can record everyone singing along
We invite you all to perform.
Play musical instruments, sing, dance, recite a poem or limerick, tell a joke or perform magic. Anything goes so long as it is suitable for all ages to enjoy! Recordings should be no more than one minute in length.
Please ensure you have the permissions of all involved, submit your recordings by We Transfer to communications@napa­ activities.co.uk    By 12th March 2021
For  a  formal invitation to the event on the 3rd April, email communications@www.napa-activities.com