NAPA are delighted to launch an exciting competition in partnership with Kare Plus.
A Poetic memoir: Life in a pandemic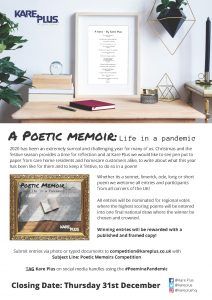 2020 has been an extremely surreal and challenging year for many of us.
Christmas and the festive season provides a time for reflection and at Kare Plus we would like to see pen put to paper from care home residents and homecare customers alike, to write about what this year has been like for them and to keep it festive, to do so in a poem!
Whether its a sonnet, limerick, ode, long or short poem we welcome all entries and participants from all corners of the UK!
Closing Date: Thursday 31st December 2020